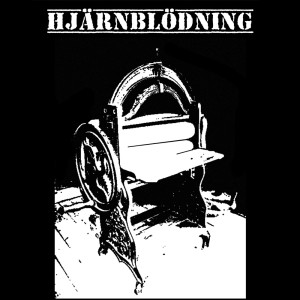 Hjärnblödning – "Åbo Jävla Kängpunk" (2015)
Hjärnblödning on suhtellisesti tuore turkulainen D-beatyhtye, mutta jäsenät ovat tuttuja muualta: Noituus, Derrida, Maktkamp, Sammuneet Katulyhdyt….lista jatkuu. Heidän ensimmäinen kasetti sisältää kahdeksan kappaletta ja kestää alle kymmenen minuuttia, mutta se on silti toimiva kokonaisuus. Laulut menee ruotsiks, ja mm. Mob 47 ja Anti Cimex tulee mieleen. Tämäkin kassetti on tehty DIY-meiningillä, mutta se on silti 100x selkeämpi kuin ne vanhat kasariluvun yhtyeiden tuotannot. Tiedän että se kuluu tyylin, mutta minun mielestä Hjärnblödning on raikas sillä tavalla että löytyy sopivasti paljon pörinää, muttei liian paljon. Bändi käyttää kahta laulajaa (aina plussaa!) ja lyriikat käsittälee mm. eläintuotannon ja kapitalismin huonoja puolia. Miinus on että laulajat laulaa aika samanlaisesti – ois kiva saada vähän vaihtelua.
"Åbo Jävla Kängpunk" on hyvä ensimmäinen albumi yhtyeeltä ja suosittelen jos tykkäät D-beat:ist.
Hjärnblödning är ett relativt nytt D-beatband från Åbo och kan nästan kallas en supergrupp: Medlemmarna är nämligen kända från etablerade grupper som Noituus, Derrida, Maktkamp och Sammuneet Katulyhdyt. Debutkassetten "Åbo Jävla Kängpunk" är kort men brutal, och när sången är på svenska så får man naturligtvis vibbar av Mob 47 och Anti Cimex, men Hjärnblödnings DIY-produktion är 100x klarare än något av 80-talets band lyckades med. Vilket såklart är ett stort plus. Lyriken behandlar bl.a djurproduktion och kapitalism, och de två vokalisterna delar snyggt på uppgiften. Ett minus är att de använder väldigt likadan sångstil, så lite mera variation hade jag gärna sett (eller hört)
Trots allt en solid, old school D-beat kassett som jag absolut rekommenderar om man gillar genren.
Hjärnblödning (="stroke") is a recently founden D-beat group from Turku, but the members have made themselves known in other bands such as Noituus, Derrida, Maktkamp and Sammuneet Katulyhdyt. Their first cassette "Åbo Jävla Kängpunk" (=" Turku fucking D-beat") consist of eight songs in less than ten minutes, and contains nothing unnecessary. Since they sing in swedish it´s easy to compare them to other scandinavian D-beat groups like Mob 47 or AntiCimex, and i know that they sometimes do a live cover of "Kärnvapenattack" – so the comparision should be ok. The DIY production as of 2015 is way better than what those bands could do in the early eighties though, which i think is a good thing. A clear mix is a good thing in a genre where it´s easy to get buried in noise (which also is cool, but not in every band).
In their next album i would like to see some variation between the vocalists, but i can totally recommend this to anyone interested in the genre!
https://www.facebook.com/hjarnblodning