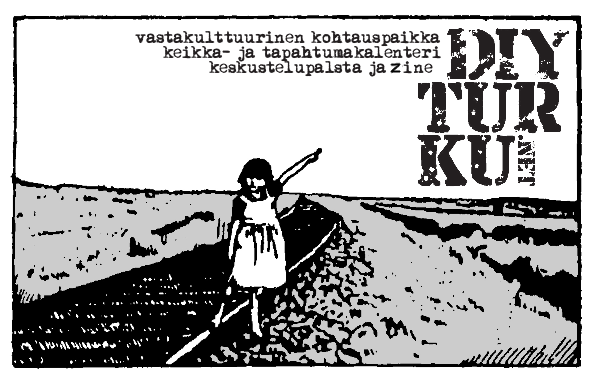 Turku alkaa olla vaikea paikka elää ja toimia ala-/vastakulttuuriväelle. Kuten henkeen kuuluu, on asiat syytä tehdä itse, ettei valloillaan rehottava korruptio pääse käsiksi ihan kaikkeen.
Toukokuussa 2011 avatulla DIYTurku.net-sivustolla sijaitsee Turun alueen alakulttuurikeikka- ja tapahtumakalenteri, keskustelupalsta, blogi ja… kuvagalleria. Tervetuloa mukaan keskustelemaan itseäsi kiinnostavista aiheista tai vain tarkistamaan, sattuisiko kaupungissa tapahtumaan jotain mielenkiintoista. Keikkoja, keskustelutilaisuuksia ym. järkkäävien (tai miksei kenen tahansa) toivotaan kirjaavan tapahtumatietoja sivuston kalenteriin.  wild flower seeds
::
Livet kan visa sig svårt för sub- eller motkulturella människor i dagens Åbo. Aktiviteter tål således ske i gör-det-själv-anda, eftersom det krävs ett sådant tillvägagångssätt som inte ger utrymme för den politiska korruption som för tillfället frodas.
På den i maj 2011 öppnade webbplatsen DIYTurku.net finns en lokal evenemangskalender, ett diskussionsforum, en blogg och ett fotogalleri. Det är fritt fram att komma med och diskutera saker som intresserar dig, eller så bara kolla om det händer något intressant runtom i staden. Arrangörer av konserter, diskussionstillfällen osv. (eller varför inte vem som helst) kan med fördel själva skriva in evenemangsinformation i evenemangskalendern.
::
Life can be harsh for sub-/counter-cultural folks living in or passing through Turku. As always, the do-it-yourself ethos may prove essential in fighting the all-encompassing political corruption.
Opened in May 2011, the DIYTurku.net website consists of a local gig & event calendar, discussion forum, blog, and a photo gallery. Feel free to come and exchange ideas on whatever topics you find interesting, or to just check out whether there's anything interesting about to take place in the city. In case you organise gigs, discussions, etc., please register on the forum and post information on your events in the calendar (of course, other people can and should do that as well, not only those who organise stuff).